Having sold our last home furnished and decorated, I mentioned on Instagram stories I am looking to restock my home decor staples. The items I move from room to room throughout the year that create the backdrop for my seasonal decorating. While most of these aren't too pricy, these are things I would happily invest in because they bring me so much joy throughout the year. In case you are trying to build up some year round home decor you love, I thought I would share some of my recommendations.
Below each home decor staple I have linked a few of my favorite recommendations!
Trays – For holdings items on a coffee table, kitchen counter, console table or bathroom counter layering decor or containing soap dispensers and other items to a tray makes them look super chic.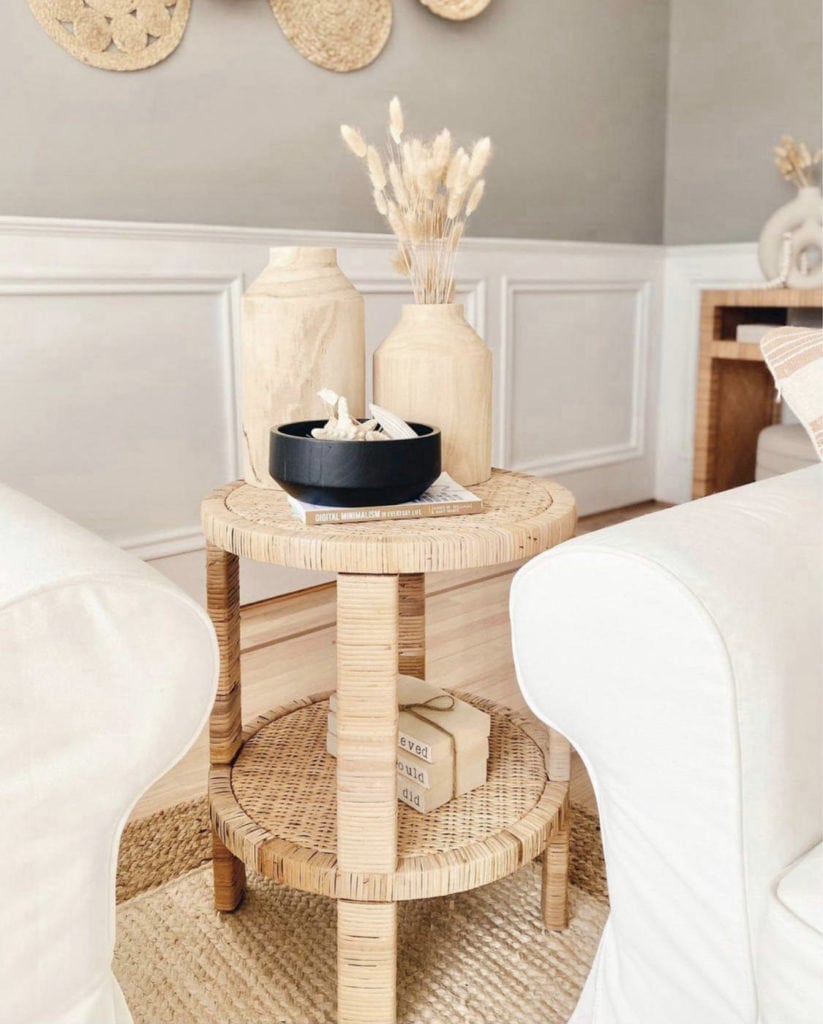 Bowls – I love to add decor beads, fruit, and filler like shells or acorns (depending on the season) to pretty bowls on side tables and counters. In the kitchen you can use fruit or other food items just like decor.

Vases – Have you noticed I use the word LAYER a lot? I like to layer a few vases of different heights to add depth to the look of my home decor. I have vases on my mantle, console tables, nightstands, and coffee table. Below you can find a few of my favorites. If you aren't good at keeping things alive I find great faux stems at Target and Crate and Barrel and also love dried grass as an option that doesn't need watering.

Decor Objects – Decor objects add interest and are easy to move around from room to room as needed. I love decor beads and wood chains layered over books or draped from inside a bowl. Geometrically interesting pieces add some flare to a book stack or empty shelf space.

Baskets – Whether the basket is hiding toys, holding a faux plant, or storing extra throw blankets I always like to have pretty baskets on hand in most rooms in my home. I use smaller storage baskets in my bathroom and pantry to store like items together.

Vase and Bowl Filler – In the kitchen I often fill bowls with seasonal produce but in the living room I add seasonal decor like shells in the summer, acorns in the fall, and maybe pine cones in the winter. Making subtle seasonal shifts to the everyday staple decor you love makes for less physical and mental clutter in my opinion.

Books – I stack books around the house as decor. In bedrooms I sometimes use old photo albums as well. I try to find books that I may occasionally flip through. Side note, I've had this idea for years of a coffee table book called "Monday Mantra" with a collection of life tips from some of my favorite people. Sometimes I am thumbing through books just looking for a message I need to hear, so that seems like something I would pick up in those moments. A few I like are linked below:

Neutral Throw Pillows – I keep a few basic neutral pillows to layer with pillows of more seasonal colors and textures. I like to use a down pillow insert 2″ bigger than the pillow cover to get a full pillow that holds a good karate chop. My preference is for blues in the spring and summer and muted greens and rust colors in the fall and winter. I also love a chunky knit pillow when the weather cools down. I also vary the size and shapes of the pillows I bundle together in each area of the sofa.

Neutral Throw Blankets – Throw blankets are practical decor pieces not only for keeping you cozy on chilly nights but to protect your furniture. If you have sofa arms that get worn down by kids who jump over them a lot or worry about dirty summer feet staining your sofa, using a throw blanket in these areas will help the longevity of something that isn't machine washable like your blanket is! I have throw blankets at the end of our beds, in baskets in the living room, as well as on our living room furniture. I have found some great options at Target that are linked below:

Faux (or live) Tall Tree/Plant – I love how a tree brings a little life and color to the room. They're a great way to fill a corner space that feels a little empty. My hat is off to you if you can keep real plants alive, I'm going to try that soon, but in the meantime here are some great faux tree options:

I also like to "collect" large mirrors and wall art. Would you be interested in seeing a blog post with some of my favorite wall art and mirrors, soon? Let me know in the comments below!