Hi guys!!
Our master bathroom still isn't done (the shower door is on order) but I wanted to share a few quick pics here because this gorgeous custom-look white vanity with tower is RESTOCKED!!!   I had fallen in love with similar vanities on Pinterest but when I got quotes from local cabinet builders to recreate the look one came back at $10,000 and the other $5,000 without the counter tops.
Since that wasn't in our budget I kept searching until I found this white vanity with a center tower on Home Depot.   At under $3,000 with counters it was a huge savings on the look I was going for.
I knew I wanted a white vanity and we actually built the bathroom around the specs of this Arielle Stafford piece.  Our bathroom is pretty tight but if you have space for it there is gorgeous trim at both ends of the cabinets so it would look really pretty floating on a larger wall.    The counter tops aren't exactly what I wanted but they're pretty and super durable.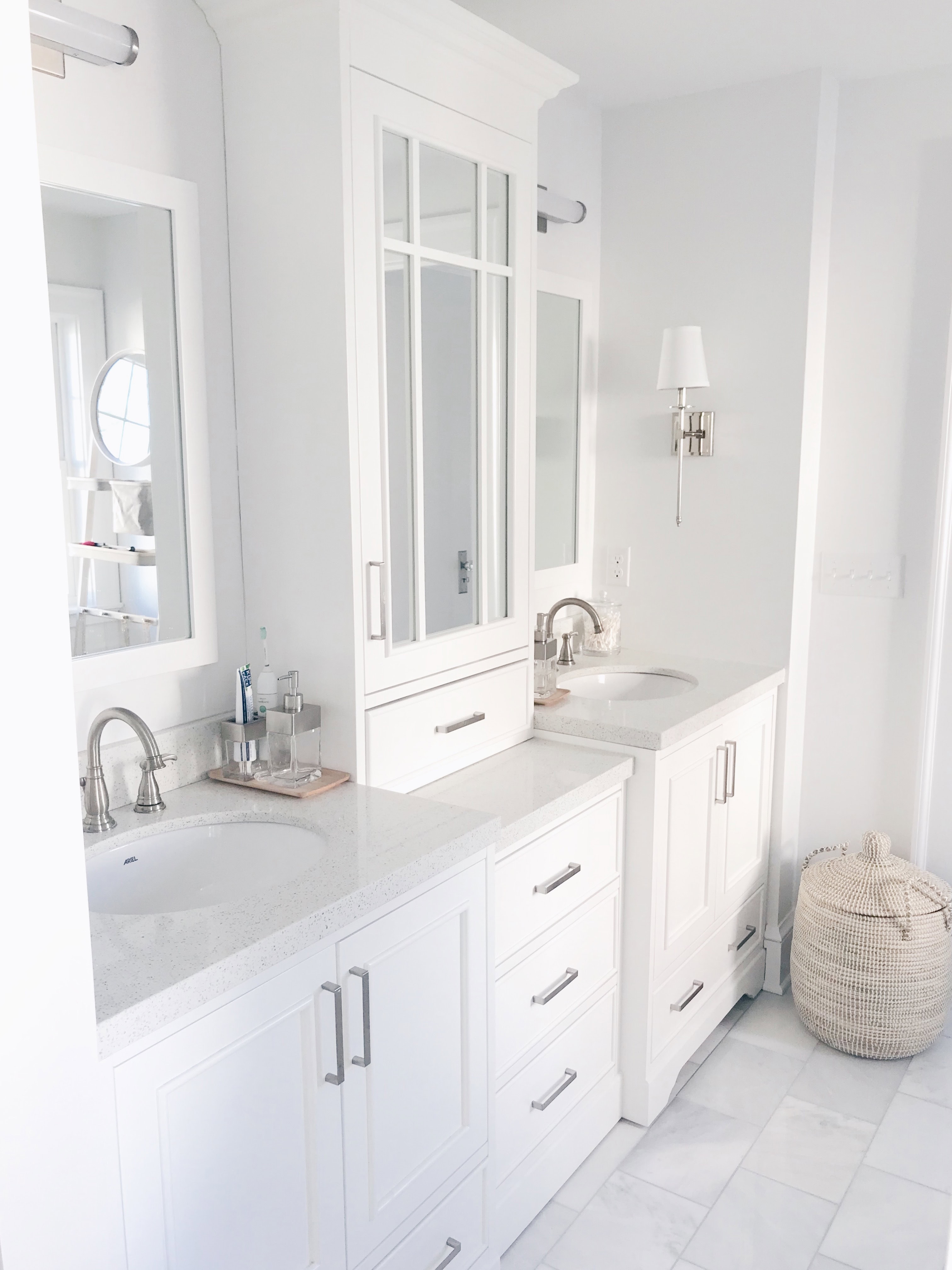 This vanity offers a LOT more storage than our previous bathroom and you can see we added additional storage with open shelving beside the support wall to the left of the vanity.
Most of the tile we used in our renovation came from Home Depot with the exception of the shower floor tile (that we also used for the floor in our powder room).   In the shower I had the subway tile laid in a herringbone pattern to add interest while still using a classic tile.    The marble floor tile was very affordable at Home Depot compared to similar tile I looked at elsewhere.    Keep in mind – marble is soft.   While we did seal our tile I know from our kitchen counters – marble scratches and dings very easily.   I love marble so much that I'm willing to deal with it – but some people might not feel that way so I wanted to warn you!
Our faucets and shower head are brushed nickel finish – also from Home Depot.   The walls are painted "Decorator's White" by Benjamin Moore.   Several baskets in my open shelving area came from Home Goods but the lidded baskets are from Serena and Lily.  I'm using one as a hamper and have a small waste basket inside the other.
Shop The Room By Tapping the Items Below:

I'm sure I overlooked plenty of details so if you have any questions please drop them in the comments below.   I appreciate you taking the time to stop by!!