Hey friends! Today I'm partnering with eBay to share a few DIY projects we tackled in the last month. Some were at our main residence, and some at a small summer cottage we own on the shoreline. Most of the supplies we used came from eBay! 80% of items on eBay are NEW, and 72% SHIP FREE so it's been an easy way to grab supplies while on "stay home" orders in Connecticut.
Solar Patio Lights
This summer we are putting a roof over a portion of our patio so we can enjoy it more as an outdoor living space. The space will include an overhead fan (to keep bugs at bay) and we are getting a quote for an outdoor fireplace. That project is a couple months away from completion and I didn't want to lose all this great weather not enjoying our backyard.
I found these great solar string lights on eBay that made it really easy and affordable for us to add string lights to our patio without a near by electrical outlet. These are great for long term use if you don't have an outdoor outlet or we will move them out into the yard once we have the covered patio area. These solar string lights are super versatile since you don't need an electrical outlet to enjoy them.
I am so impressed with how bright these solar string lights shine. We only had to use 2 strings of solar lights to brighten up our seating area. In our last home we made large planters with a concrete base to steady the pole. This time, however, I wanted a quicker project so we just attached these 92″ shepard's hook poles straight to our wood patio furniture. They also stick into the ground if you prefer that option!
STEP 1:
Decide how you'll hang your lights. You may have a handy tree in your yard or in our last home we poured quick dry concrete in the bottom of wood planters and strung outdoor string lights from wood posts. I mentioned above we decided to use shepard's hook poles for an easy install.
STEP 2:
Mount your posts. We used steel straps but the shepard's hook poles can be hammered into the ground as well. As I mentioned, in our last home we used planters with a wood pole stabilized by concrete to hold up the string lights. That's a more labor intensive option.
If you're using solar lights, mount the solar panel facing prominent sun exposure.
My husband uses this Ryobi impact driver for SO MANY of our home projects. The majority of our home tools are Ryobi. eBay carries all the Ryobi tools as well as replacement parts and batteries should you need them.
STEP 3:
Hang your lights! You'll you'll want to account for some sag in the string lights when you're measuring what length/how many strands to purchase.
Artificial Plants in Outdoor Planters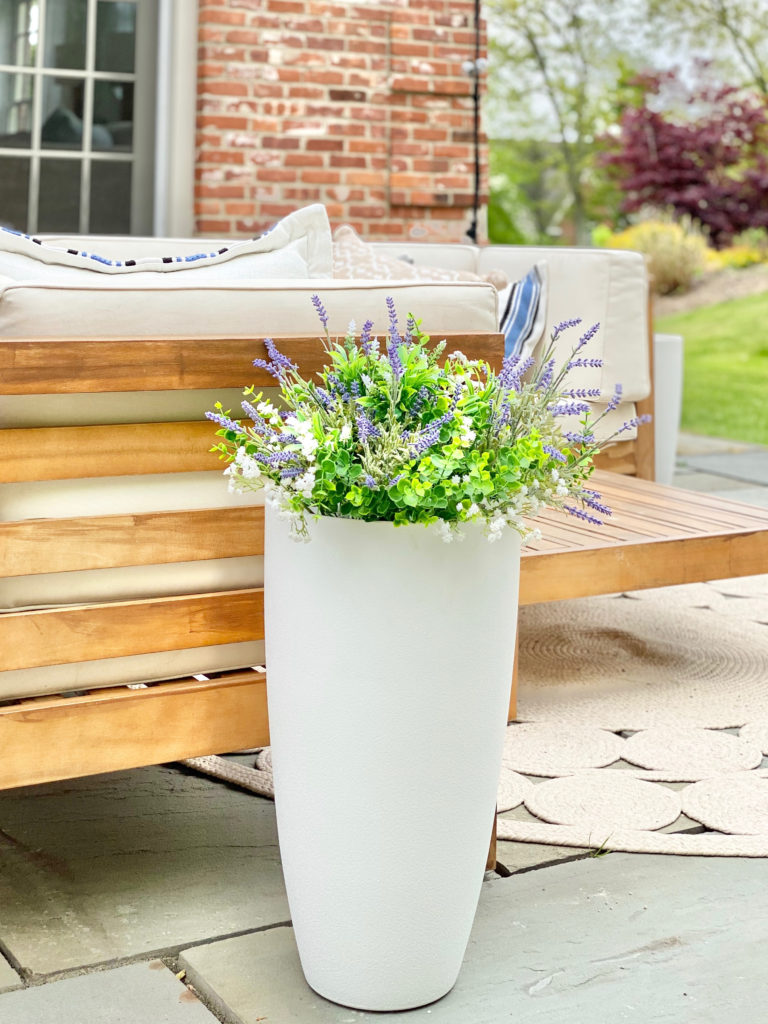 I wanted some plants in this space without the upkeep or know how of which plants live well together. Horticulture is not my expertise, in fact I've wasted a lot of money failing to keep plants alive. Last Christmas I decided to fill some urns with pre-lit artificial holiday greens. No one realized they were a no maintenance faux-plant option so I was inspired to try something similar for summer!
This DIY couldn't be easier using artificial plants in these tall white planters I found on eBay. No watering, no bees, no weeding.
STEP 1: I filled the planters with a bag of marble chips we had from a prior landscaping project. This made it easy to stick in the plastic spigs and adjust my arrangement to my liking.
STEP 2: Fluff up faux plant and flower springs and insert into the rocks.
THAT IS IT!!!
With my total newbie skillset I feel like it came out super cute so I'd encourage ANY LEVEL DIY'er to give this project a try. Here are a few plants you might try as well as the planters I used.
Peel and Stick Wood Look Flooring
This summer cottage kitchen had blue sheet flooring. Yikes, eye sore! I found this really affordable and easy to install peel and stick flooring on eBay! The color is BIRCHWOOD and it went on very easily like the peel and stick tile in our laundry room. Because this space was small it took my hubby about 2 afternoons (around the toilet was a lot of cuts) with about $250 in materials. This is a helpful video tutorial of laying down peel and stick flooring.
The stock photos for this flooring on eBay's site does not do it justice. It looks SOOOO good in person. For my personal style, I prefer it over the stenciled look tile I used in the laundry room.
You can see I also took on painting the counters in this kitchen. It's an easy DIY, but because of dry times between coats of paint and the finish coat I have had to spread it out over a few visits to the shore. I'll share the final result next week!
SHOP THE PATIO SOLAR LIGHT PROJECT SUPPLIES

SHOP THE FAUX FLOWER PLANTER PROJECT SUPPLIES

SHOP THE PEEL AND STICK WOOD TILE PROJECT

If you're working on any DIY projects make sure to check out eBay for deals on tools and supples you may need. I'll be sharing more patio updates later in the summer as projects progress! Thanks for stopping by.
And THANK YOU to eBay for sponsoring today's post.