I love coordinated family holiday pajamas!   Do you remember this Christmas family post from last year?  Melt my heart – my kids have grown so much but they're still wearing those monogramed robes.  If you follow me in Instagram or Facebook you might have noticed I start my Christmas decorating on November 1.     I also bring out the holiday pajamas around the same time and I want to encourage you to at least start shopping for them.   In years past I have tried to get matching family Christmas pajamas in December and more than one person's size is sold out.
Family Holiday Pajamas 2017
So I have rounded up some holiday pajamas for you and the fam below!   Some are more subtle than others but they all make for great family photos.   The pajamas I am wearing above are a couple year's old from H&M (only $25).   They still make almost the same pair – I'd recommend sizing up in these pajamas.
Christmas Pajamas for Women:

Christmas Pajamas for Kids:

If you don't like the ones above you can check sites like:
The Hanna Anderson site has a wide selection of more sophisticated (for lack of a better word) holiday pajamas for all ages.
A lot of ETSY sellers  will also let you pre-order and personalize your pajamas.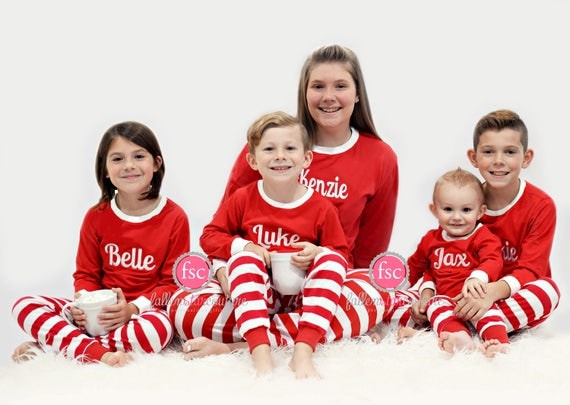 Old Navy, Target, and Kohl's all have affordable options if you shop REALLY early!   Believe me friends – the popular sizes go fast!!
Whether you celebrate Christmas or another holiday – I hope you get some time with your family.  XO
Rach