I love hosting for the holidays and charcuterie boards are the perfect way to display finger foods in a fun and festive way. Instead of a board, I wanted to scale it up to an entire table. I found the most gorgeous decor at TJ Maxx so I thought I would share how I set up my charcuterie table for the holidays in just a few easy steps.
1. Place Large Decor & Dipping Bowls
I like to start off by placing the larger pieces first as a framework and working the fruits, crackers and cheese around them. For this holiday table, I found these gorgeous flameless candles and modern candlesticks. They set the scene and don't risk your table, napkin, or sleeves going up in flames or covered in wax.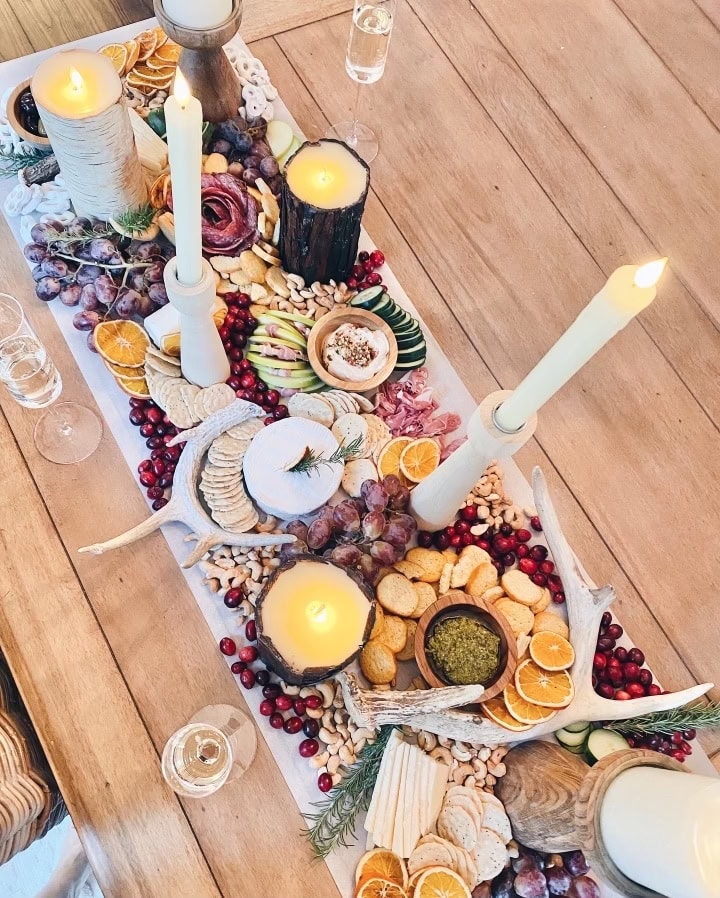 2. Choose Your Cheese & Charcuterie
Make it easy for your guests by cutting the cheese in slices or cubes in advance. For the meats, group them in small bundles and place them around the table. If you really want to fluff up the presentation, you can arrange them into pretty shapes and flowers.
3. Add in the Snacks
Using the bowls and candles as a guide, I like to layer the crackers one over the other in the shape of half circles. If you're wondering what fruits to use for a charcuterie spread, I went with grape, sliced oranges and pears. You can also use dates, figs apples and berries. To add some sweets and variety, throw in some chocolate-covered pretzels or festive candy canes.
4. Fill in the Empty Spaces
Once you've added everything in and notice there are some empty spaces in your charcuterie spread, fill them in with smaller-scale snacks such as nuts and berries.
You can really make your holiday charcuterie table as simple or elaborate as you want it to be. That's what makes them so fun and perfect for parties during the holidays and year-round.
SHOP THE POST

Thanks for stopping by and Happy New Year!!