Styling your home shares many similarities to styling your wardrobe.    In my 30's, I find in my home and wardrobe I want to have a more refined style.  In my teens and 20's I jumped around a lot of trends, but now in my 30's I aim to be more classic and invest in a few pieces I will hold onto for longer.   This is something I have to be cognoscente of when I am shopping because sometimes I love a piece that just doesn't work well in my space.
As I get older I find myself wanting to look back at photos of myself with less off a 😳 expression and appreciate that I looked somewhat polished.   There is plenty of irony here  since I wear sweatpants in public, but I'm doing my best to mature my style and still be practical.   If you saw me in middle school wearing patterned mini skirts with knee socks you might appreciate that "refined" style is a relative term.
Image 1 via LeClairDecor, Image 2 via DesignLovesDetail, Image 3 via HomeDepot
Tackling Home Design is HARD!!!
So when it comes to my home, it's a newer territory for me.   I've been dressing myself for 30 years but I've only owned a home for 12 years.  I decorated my bedroom (horribly) in high school and I wouldn't say the first home I bought was "decorated".
As I've settled into mom life and become MUCH more of a homebody than I was in my 20's, it's more important to me to have a cozy home.   That's why I want to touch on the importance of DEFINING your interior style.
Why label your style?
No one wants to feel boxed in by labels, but labeling my style helps me stay centered and keep my space more cohesive.    If I simply bought pieces I liked they wouldn't tie together in a space that gave me all the right feels.  Labeling my interior style has also helped me avoid some trends that I'd already be regretting (like the wood panel wall I wanted on my kitchen peninsula).
It's also important to label your style if you are considering selling your home in the near future.   If your style is too out there you might want to rein it back in so you don't have to stage your home to be more marketable for resale.  Only recently we became unsure if we will stay in our house long term, so that's something I have to think about while we renovate.  I know my style, but it may not be someone else's.    So certain design elements that I really love (raw wood beams) I'm cutting back on.
Some tips for defining your home decor style:
find common themes between spaces you love.
recognize areas in your own home that you loves and where you've struggled to create your ideal space.
consider hiring a professional!
Common Themes I Personally Love…
I find most of the rooms I pin are white, bright, and open.   They layer neutral textures and keep things casual.   Does this not sound similar to my wardrobe??   My master's degree is in nursing – so I'm sure design folks are like "duh, of course!!!" your home and your wardrobe styles overlap.
Where I have struggled most!
In my own home one area I have REALLY struggled with is window treatments.   I've heard friends say the same for rugs.  I wouldn't say rugs are easy for me – but I have made more BAD window treatment purchases (looking at you $500 custom plantation shutters in 3 windows).
Some retailers offer free design input
Whether you're redoing a kitchen or living room some retailers like Home Depot and Pottery Barn offer free design services.   This is huge!!   Even if you don't want to commit to purchasing from particular retailers, hiring a professional can save you money in the long run.   As I mentioned above I am almost $1500 deep in plantation shutters I don't love, in addition to $400 of velvet curtains and $300 of curtain rods I'm not crazy about.   Had I hired a professional from the get-go I may have even saved money.
Once you DEFINE your style many retailers let you filter based on your tastes!!
I find my interior style usually falls within the COASTAL and COTTAGE (some call it Farmhouse) terms.   I love a casual, cozy space.   And again, like with my wardrobe – I prefer light neutral color.
If you visit HomeDepot.com and search their "Shop By Room" tab you can find inspiration broken down by style catagories.   For instance, their living room design ideas have some super cute coastal themed spaces like this room and this one.
Wayfair also offers a similar feature where when you search an item.  Say you want to search for a new coffee table.  One of the filters they offer is "style' and choose options like "coastal" or "cottage/country" (or whatever your tastes may be).
If your budget allows and you like coastal home decor just hop on over to Serena and Lily where you'll want to go ahead and buy the whole site!!   Or is that just me?!
Some SHOPPABLE spaces I love: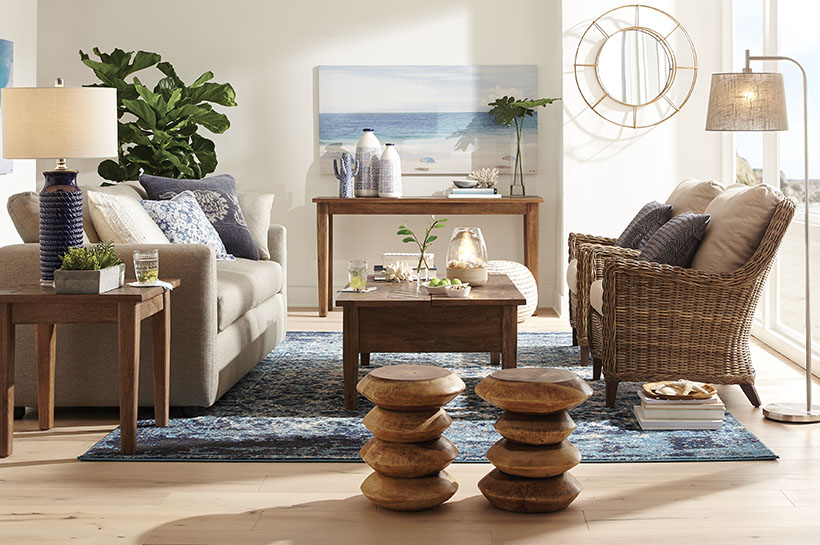 I love these chairs and these wood stools.   Shop the room here.
I love this coastal living room/dining room you can shop on Serena and Lily.
I wouldn't turn this living space down either!
Stay Tuned This Week
My home is in complete disarray at the moment but next week I'll be sharing some living room updates here on the blog in collaboration with Home Depot.   Most of our kitchen is currently moved into the living room while we renovate so I have quite the task ahead of me this weekend!   You can sign up for my newsletter if you want new post alerts.
Is there certain area of home design where you struggle??   Drop a comment below!   I'd love to hear from you.