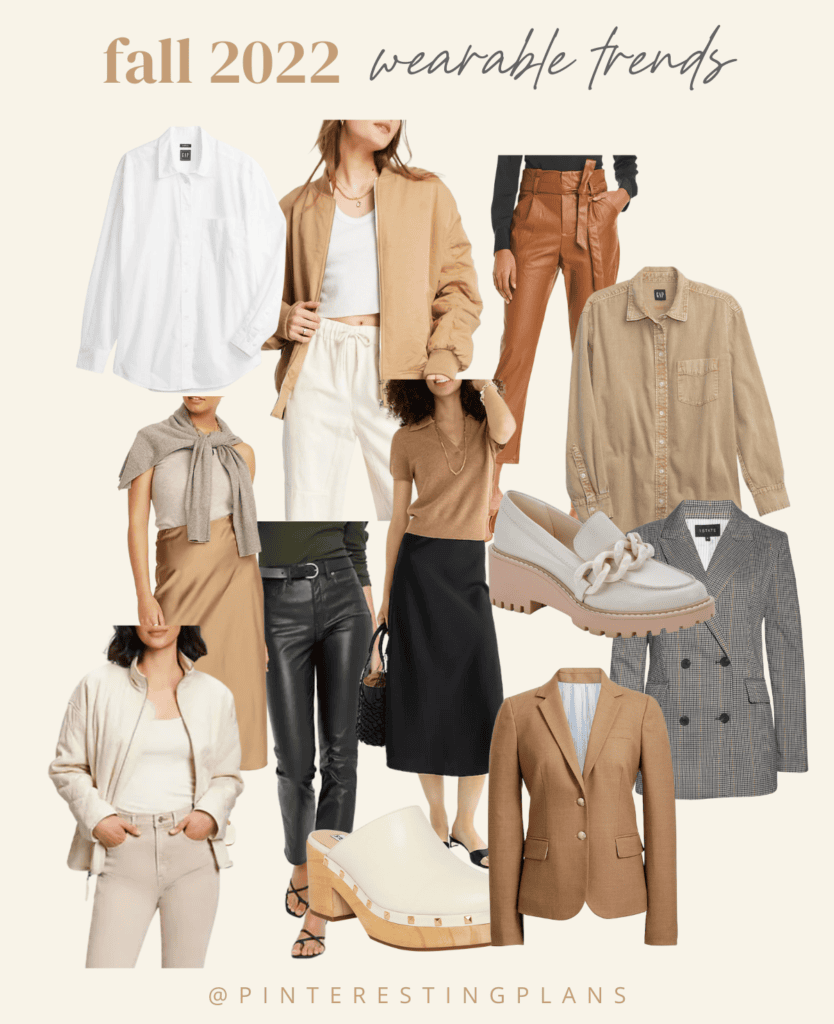 There are some interesting styles trending for Fall 2022. Some of the fall trends we are loving and some we are still unsure about, like corsets. While we can appreciate trends that are not our style, we wanted to focus on ones that are wearable! There were quite a few but we chose to focus on a handful that we're into. We may even try a few of these over on Instagram!
shop these platform shoes below:

Platform Shoes
Total 90's vibes, as were a lot of the trends for this fall. I'm not quite sure I can pull of a clog but I do think there are some really cute options, like these woven ones and these neutral ones. Marissa is a big fan of a platform sneaker, she likes the added height, so that trend is right up her alley.
shop these pants below:

Leather Pants
When reviewing fall trends "head to toe leather" came up. Can you get behind that one? I do love a quality leather pant. I think the better quality shows in this trend! I'm also loving the brown pants I found, especially these tie waist ones.
shop these bomber jackets below:

Bomber Jackets
I LOVE a light fall Jacket. Here in Florida I feel like we get some extra time with our light jackets since we don't have winters like we did in CT. This neutral bomber jacket is on trend and budget friendly. Should I grab it?!
shop these midi skirts below:

Maxi Skirts
Another trend I think is so cute but not something I would wear often in my current lifestyle. In the fall I think a midi skirt would be cute paired with a cropped sweater and sneakers or mules. A more casual look! LOFT has some patterned ones this season like this but I like this silky slip skirt myself.
shop these oversized shirts and shackets below:

Oversized Shirts and Shackets
The oversized shirts were out for the summer too so it's no surprise there a fall 2022 trend as well. I think a white oversized shirt is coastal grandmother approved and taken into the fall would be cute with a striped sweater draped over the shoulders. While a shacket is not coastal grandmother, it is so cozy! The shacket trend will be back next fall so I dove in a grabbed this splurge shacket.
shop these blazers below:

Equestrian Style
Y'all know I love a blazer! While Houndstooth is the pattern that really speaks to this trend, I think any neutral blazer would give you this trendy yet classic look. Here is one of my favorite blazers to get the look.

Join us over on stories as we dabble in some of these trends for the fall 2022 season!